Next:
References
Up:
Abstract and Contents
Previous:
FASCOD3P Use
Return to the Publications. Return to the Index.

---
A phase function can be determined from Mie theory if given the particle size distribution, particle phase, optical depth, and wavenumber. If a particle size distribution is assumed under cirrus conditions for a given microwindow region, the optical depth remains the only unknown.
Reflectance was calculated for a series of optical depths for each microwindow region; where the IR optical depth varied from 0.01 through 5.0. The upper limit is beyond the capabilities of the lidar and is an acceptable cut-off.
Figure 39 shows a plot of reflectance as a function of the IR optical depth; which is subsequently fit with a sixth-order polynomial to determine a parameterization for the reflectance for the given optical depth range. Data shown is at 772 cm

. The calculated reflectance for the given assumptions varies from 0 to 0.52%, among all microwindows.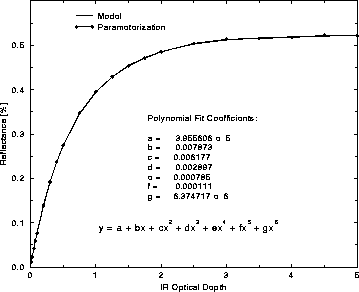 Figure 39: Reflectance as a function of IR optical depth and a sixth-order polynomial fit for the microwindow region centered at 722 cm

. The fit is required to parameterize reflectance to allow optical depth inversion from the IR RTE.

The coefficients for each microwindow region are given in Table 9 for completeness, such that

where the reflectance is valid for infrared optical depths between 0 and 5, and the spectral dependence is implied.    
window
(cm)
a
10
b
10
c
10
d
10
e
10
f
10
g
10
773
3.9556
7.8733
-6.1774
2.8969
-7.8505
1.1149
-6.3747
788
3.8503
7.6638
-6.0055
2.8156
-7.6313
1.0839
-6.1990
811
3.6348
7.1907
-5.6321
2.6428
-7.1704
1.0194
-5.8339
820
3.5399
6.9738
-5.4638
2.5656
-6.9656
0.9908
-5.6724
831
3.5093
6.6325
-5.2271
2.4700
-6.7406
0.9624
-5.5254
846
3.2853
6.1136
-4.8293
2.2878
-6.2555
0.8944
-5.1399
862
3.0069
5.4711
-4.3383
2.0628
-5.6558
0.8102
-4.6621
875
2.7645
4.9264
-3.9209
1.8710
-5.1439
0.7382
-4.2533
894
2.3410
3.9045
-3.1262
1.4978
-4.1250
0.5921
-3.4095
902
2.1395
3.4956
-2.8113
1.3524
-3.7352
0.5372
-3.0979
935
1.2622
1.8554
-1.5322
0.7510
-2.0987
0.3041
-1.7628
962
1.3547
1.9466
-1.6173
0.7948
-2.2233
0.3223
-1.8688
992
1.9235
2.8994
-2.3775
1.1578
-3.2208
0.4653
-2.6902
1081
2.4633
4.0218
-3.2373
1.5550
-4.2874
0.6158
-3.5472
1096
2.4832
4.0746
-3.2745
1.5712
-4.3288
0.6214
-3.5784
1115
2.5223
4.1853
-3.3529
1.6056
-4.4185
0.6338
-3.6486
1129
2.5462
4.2579
-3.4040
1.6281
-4.4778
0.6422
-3.6958
1145
2.5693
4.3299
-3.4540
1.6498
-4.5338
0.6499
-3.7389
1159
2.5818
4.3689
-3.4799
1.6607
-4.5613
0.6536
-3.7596
Table 9: Reflectance Fit Coefficients
---



Next:
References
Up:
Abstract and Contents
Previous:
FASCOD3P Use
Daniel DeSlover
Sun Aug 11 10:02:40 CDT 1996