Return to the Index.
---
On 9/9/04 the AHSRL was shut down and packed for shipment to Barrow, Alaska. The AHSRL began Barrow operations as part of the MPACE experiment on 9/24/04. System alignments were completed on 9/29/04. The system was operated via the Internet until 11/17/04 when the system was shutdown for shipment back to to Madison, WI.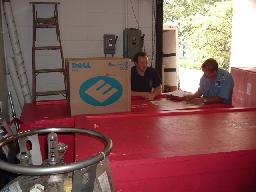 Jim Hedrick(left) readies air freight paper work needed to ship the AHSRL to Barrow, Alaska where it will take part in the the DOE MPACE project. (click on image to enlage)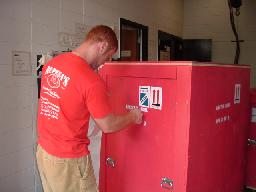 Lots of "fragile" and "this side up" stickers were applied to the AHSRL crates. (click on image to enlarge)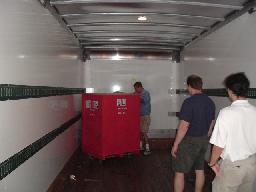 The crate containing the telescope is loaded first.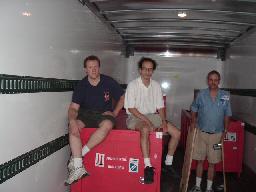 All three crates are aboard the truck. Jim Hedrick (left) and Joe Garcia(right) take a break.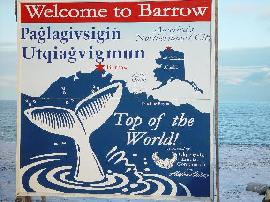 Barrow.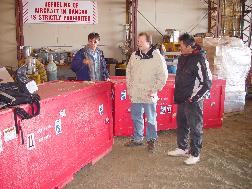 Lidar arrives in Barrow. Walter Brower, Jim Hedrick and Gilbert inspect crates.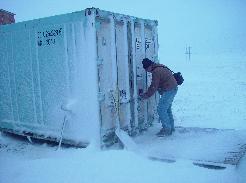 Igor closes the lidar container at the DOE ARM site after a day of work installing the AHSRL.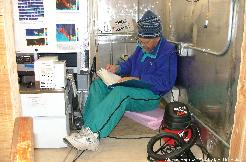 Ed next to the AHSRL reading documentation.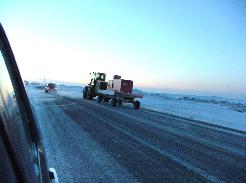 As the sun sets on Barrow for a 64-day night, the AHSRL begins its trip back to Madison.
---
Return to the Index. eloranta@lidar.ssec.wisc.edu